SOLD - Lowest-Priced Condo We Have in Phoenix - Part of a Portfolio that is Now Discounted to Sell Fast! - Sold in the $120Ks at Peak - Our Price Only $72.6K! - W Bloomfield Dr Phoenix, AZ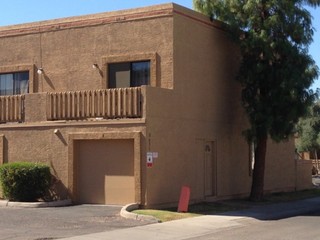 Location:
Phoenix, AZ
Ask us for a copy of the comparable sales in 2006 that show previous sales in the $120Ks even as late as 2011. This is an incredible bargain that will have strong price growth over the next five years.
This complex does not qualify for conventional financing because these units were selling cheap to all-cash investors and there are not enough owner-occupied buyers yet. But, to help our Where to Invest buyers get the really good pricing, but be able to finance it as well, we have lined up financing to do the job. So, now- cheap price
and
able to finance.
This property is part of a portfolio that has just been discounted for an immediate sale. Priced now to move fast!
Rent $795/mo
Tax $17/mo
HOA $200/mo
Property Mgmt $70/mo
Cash Flow All Cash $508
Loan payment 5% Rate $273
Cash Flow w 30% Down $235
Beautiful two bedroom and two bath town home in North Central Phoenix. Located within walking distance of scenic city parks and a very popular mountain preserve for hikers.
Unit has been freshly painted outside and the roof and A/C unit was replaced in 2010.
Notice that month rents of $795 are OVER 1% of this property's purchase price. this pulls in exceptionally strong rent compared to the price paid. and it is affordable enough, an investor can pay all cash and have a very strong cash flow. Perfect purchase for an IRA.




Bill Sutherland
(818) 481-8011
W Bloomfield Dr
Phoenix, AZ 85029
View Map
All information in this site is deemed reliable but is not guaranteed and is subject to change
Price: $72,600
Bedrooms: 2
Bathrooms: 2
Square Feet: 999